Scott Guthrie put all these links together! Check them out here, thanks Scott!
Last week the ASP.NET AJAX Control Toolkit team released Build 10618 of the ASP.NET AJAX Control Toolkit. This fixed a few issues discovered with the release earlier this month including:
This build also contains additional performance optimizations for the new "script combining" feature provided by the new ToolkitScriptManager control. This feature can help significantly improve performance for pages with multiple AJAX scripts that previously needed to be downloaded separately. David Anson has a nice blog post that talks about these improvements here.
New ASP.NET AJAX Videos
Joe Stagner has recently posted five new (free) ASP.NET AJAX videos on www.asp.net: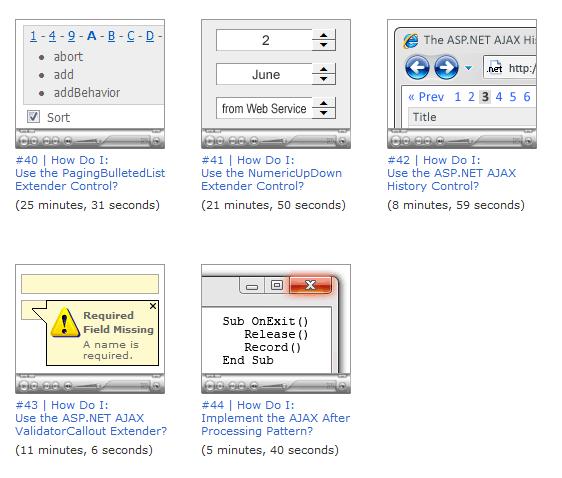 You can download and watch the videos here. These new videos are available to download in a variety of video and audio formats including: WMV, Zune, iPod, PSP, MPEG-4, and 3GP.
New ASP.NET AJAX Articles
Here are a few recent ASP.NET AJAX articles you might also want to check out: